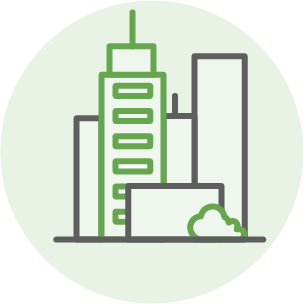 Public chargers
Modern, electric charging stations are an important step towards the development of electromobility. A better infrastructure with a larger number of those types of devices stimulates interest and a positive, ecological image of electric vehicles which, in turn, will contribute to the growing number of places where soon we'll be able to charge our electric vehicles. Along with the increasing popularity of electric vehicles, the number of commercial charging points also grows systematically – they become more and more visible in many different public facilities. Although the cost of charging of our EV at a public station may be a bit higher than when we charge it at home, this solution has a lot of advantages, not only for drivers.
Why are public charging stations a perfect solution for all EV owners? Public chargers are quite convenient, especially for drivers who cannot charge their vehicles at home. This solution is especially useful to drivers who cover long distances and want to charge their cars quickly, at a convenient location, and move on. The greatest advantage of public charging stations is, most of all, the possibility to charge our cars' batteries whenever we need – in particular, in places where we spend most of our time, such as shopping malls, supermarkets, hotels, restaurants, entertainment arenas, recreational facilities, universities, public agencies, and many others. Examples of applications of public chargers are endless. Virtually any place where an EV owner spends more than a couple dozen minutes has the potential to become also an EV charging station. It is surely a comfortable solution – for instance, we park our car in a shopping mall's parking lot, connect it to a charging station and go shopping, have dinner at a restaurant or go see a movie. When we return, we leave the parking lot with a fully charged battery. Modern charging stations, not only public ones, are intuitive, user-friendly and safe, which makes every charging simple, comfortable, and accessible for any EV owner. For entrepreneurs, on the other hand, public chargers can constitute an additional source of income. By providing paid EV charging services, not only do they gain an additional profit from energy sales, but also increase the attractiveness of their company to a large and constantly growing group of EV drivers.
What are the most important features of chargers at public charging stations? If you are a business owner and you are planning to create your own electric vehicle charging station, you need to consider a few important factors that will help you decide on the most appropriate device. First, public chargers should be durable and resistant to all external factors, including the weather – low and high temperatures, UV radiation, wind, rain, snow, hail, etc. Therefore, when choosing the device, one should pay extra attention to the mechanical strength class, whose level indicates the durability of a particular model, as well as to proper protection from unlawful actions of third parties (e.g. vandalism). Thus, you will be able to avoid unforeseen malfunctions and you can be sure that the charging station will serve you for years to come. The power of the device should also be taken into account as it will influence the vehicle charging time. Faster, and considerably more expensive, chargers using the DC current will be perfect for shopping malls or highway parking lots, whereas slower, AC-current chargers will be perfect for hotels, office buildings, residential quarters, and corporations. Public charging stations are a great investment for any facility, not only in terms of marketing, but also finance, as they will attract all EV users seeking to charge their batteries. Thanks to the profit from energy sales, a relatively quick return on investment is possible.
Our electromobility.One website offers EV chargers for home and business use, as well as a broad range of solutions that will also be useful in busy locations – not only in the city spaces. Depending on your needs and the size of your facility, you may choose single or double chargers, or even more complex charging stations allowing to charge several vehicles at the same time. Devices presented in our offer meet all the electromobility requirements for public devices; they are safe and reliable, and boast a state-of-the-art design which will surely fit perfectly into modern architecture. Moreover, you'll find a broad range of accessories on our site, as well as ready-to-use EV public infrastructure management systems. If you are wondering which public charger would be best for your charging station, which one will make the most of your facility's parameters, feel free to use our free-of-charge audit service. It will dispel your doubts. We provide comprehensive support at every stage of the order.
show more
show less